Don't just meet—Convene
Empower your board with a smart, simple, and secure board management software trusted by leading organisations across the globe.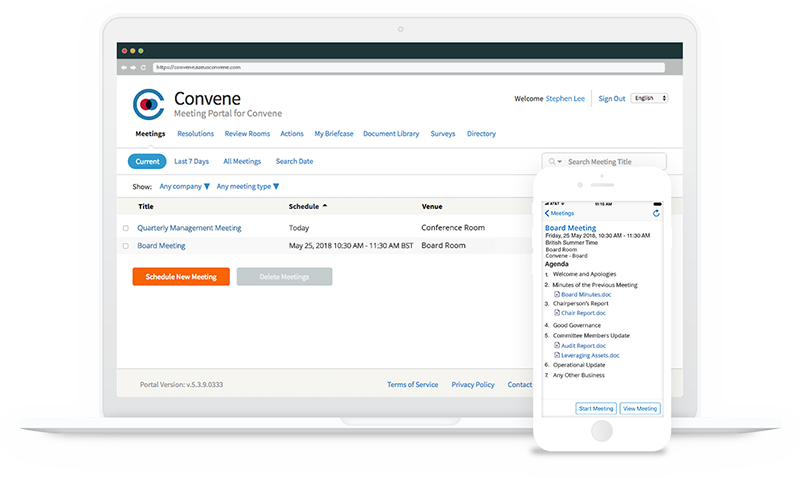 The multi-awarded board management software of choice by prestigious companies in the UK and more than 100 countries worldwide
Finance

Being used by the top banks and financial institutions across the globe, Convene is set up in their own unique infrastructures following their most stringent security policies.

Government

As the leading board management software, Convene supports the UK government's digital initiatives by transforming how meetings are conducted in government departments and agencies.

Healthcare

In a time-sensitive environment like the healthcare industry, Convene is the chosen partner for real-time resolutions and decision-making of British healthcare organisations.

Education

Convene is used by prestigious universities, colleges, and schools in the United Kingdom – from top-level council meetings to campus-wide meetings.

Why Azeus?
We are a global company with over 25 years of experience in software implementation and maintenance. With our deep pool of expertise and local team based in London, Azeus is your reliable partner that speaks your language. We are compliant with the GDPR, ensuring your board's data and interests are always protected.
Directors
With Azeus Convene, executives are quickly able to make decisions and work on their chosen platform – anytime and anywhere.
Administrators
Driven to make work easier for secretaries across the globe, Azeus Convene is equipped with features that will eliminate tedious processes.
Security at a Glance
As a premier board meeting software, we implement the highest security standards for your organisation
SSAE16- and ISO 27001-compliant hosting

Hosting facilities are certified

AES-256 network and document encryption

Documents are always encrypted

Multiple-factor authentication

Use only registered devices

On-the-fly decryption model

Security for mobile devices

Fine-grained access control

Grant access to groups or individuals

Automatic purge for lost devices

Temporary files are deleted

Audit trail

Track all activities your environment

Password policy

Password is protected using AES 256-bit
Learn More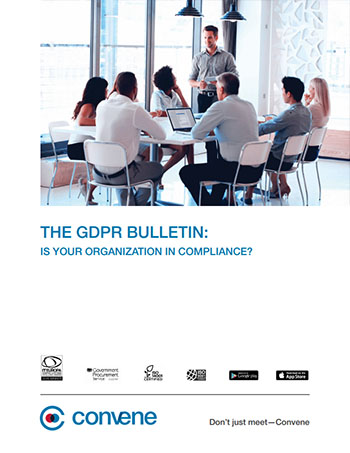 The GDPR Bulletin: Is your organization in compliance?
While most organizations have enacted the necessary steps to comply prior to the enforcement, given the complexity of the GDPR, it may be prudent for organizations to continuously assess their compliance and immediately plug any holes to avoid tragedy. Board members today have the added responsibility of keeping themselves updated on which areas they should pay special attention to in order to avoid the risk of noncompliance.
The Azeus Convene Advantage
As a top-notch solution, Azeus Convene takes pride in being the most efficient and economical board management software in the market.
90,000

---

sheets of paper saved per year

90%

---

meeting preparation time saved

2x

---

cheaper than other solutions

£8,200

---

cost savings per annum
Discover more benefits
News & Updates
Azeus Convene Wins IT Europa's SaaS Enterprise Solution of the Year

Azeus Convene was hailed as the SaaS Enterprise Solution of the Year at the IT Europa awards on April 19, 2018. IT Europa's European IT & Software Excellence Awards recognises best practices in customer solutions and celebrates service excellence from the vendor and distributor community.

Azeus Convene Expands Worldwide Presence to Over 100 Countries

Azeus announces that Convene, a multi-awarded and leading board management software, has expanded its presence to over 100 countries.
Read more News about Convene
Measurable Results, Real Experiences
Get to know how Azeus Convene was able to impact different types of organisations from various industries.
---
Read up on Tesco PLC's study that reveals Convene pays for itself in their organisation

"Once they switched over to Convene, our board stopped using paper. Now the only cost left is the license per person, per year. The study found that we save so much money on printing and paper alone that Convene has almost paid for itself every year, which is quite impressive."

- Chris Spanias, Solution Architect

Read Case Study

Know more about Buckinghamshire County Council's seamless and secure transition to a board management software

"We appreciated the customer and support calls with Convene. Nothing was ever too much for Convene staff, from actually getting the product in, extending the trial period, to the crossover from the file to the live environment. We always had useful, clear and very productive phone calls with our account manager."

- Nadia Kühn, Business Partner - Corporate Business Support and James Mansfeild-Sturgess, Technology Strategist

Read Case Study

Learn how Sheffield Children's NHS Trust has reduced their printing by nearly 60,000 a year

"The main driver for switching to Convene was the amount of time and money we were spending on printing. The average board pack was 104 pages, with 14 participants and 11 meetings a year. That's 16,000 pages. Then for the Trust Executive Group, which has 12 meetings a year, we were printing another 42,500."

- Anne Greaves, Digital Communications Officer

Read Case Study
Experience Azeus Convene
Learn how Azeus Convene can give you a great meeting experience – no matter where you are or what platform you use. Schedule a free demo, request for a price quotation, or get a 30-day free trial at your convenience with no cost or obligation to purchase for your organization.
You may also contact us at 020 3743 2515 or at eu_sales@azeusconvene.com