Advance the Meeting Process
Improve collaboration in your workplace with our board meeting application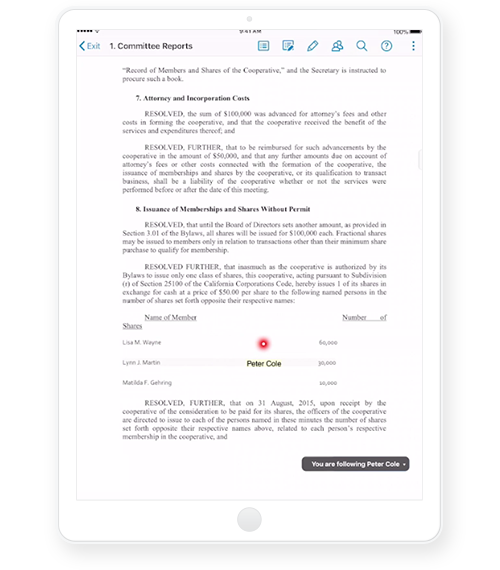 Smart Governance Processes
Enhance engagement and productivity in your boardroom.
Direct participants' attention with our laser pointer feature
Keep everyone on the same page through page synchronisation
Make annotations directly on a page
Stay informed through real-time updates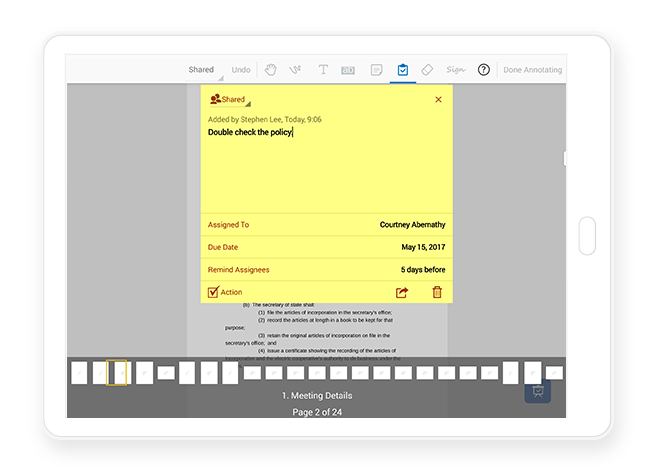 Simple Meeting System
Use an easy and intuitive interface with interactive tools.
Review meeting documents on your preferred device
Swipe and view thumbnails to navigate through pages
Assign action items with a single tap
Vote on resolutions outside the meeting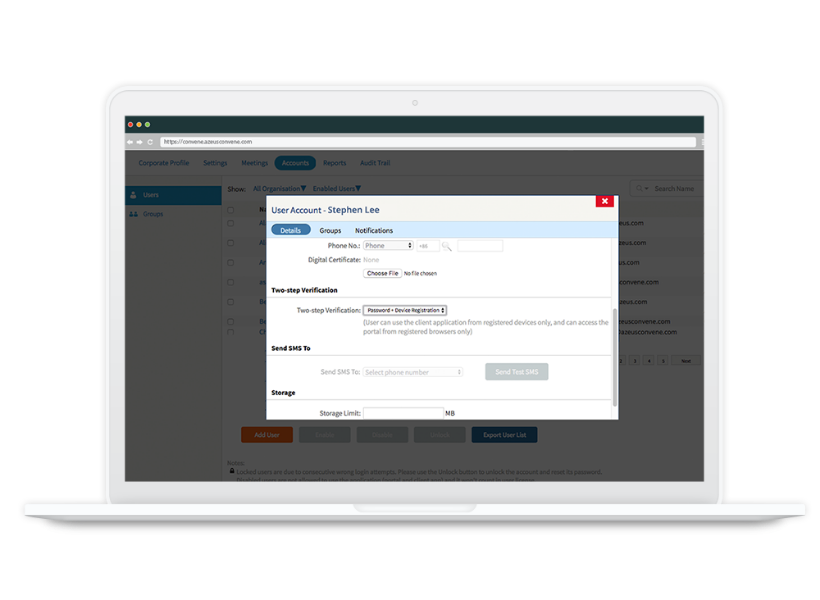 Secure Document Management
Securely access files whenever and wherever you want.
Protect data with multi-factor authentication
Set permission levels for each user
Remotely wipe off data from a lost or stolen device
Access the application only on registered devices
Elevating the Standards of Meetings across the Globe
As a premier board meeting application, Convene is designed to empower mobile directors worldwide.
Reasons to Use a Board Meeting App
While making the switch from paper to tablets is understandably a huge jump for many organisations, having a board meeting application is increasingly becoming more of a necessity and less of an option. Here are the reasons why your organisation needs a board meeting application:
Device Requirements
Read about where and how you can download our board meeting application.
Download Azeus Convene
FAQs
Have a better understanding of how our board meeting software works.
What is Convene Portal and its relationship with the Convene app?

The Convene app is tightly integrated with its web portal.

What is Anywhere Meeting?

An Anywhere Meeting is held when participants are not within the same WiFi coverage or internal network.

Can I access the application without Internet connection?

Yes, you can access the Convene app even when offline.

On what platform is the Convene application compatible with?

Convene works on iOs, Android, and Windows.
Read More FAQs
Hear from Our Clients
Read testimonials from our customers on why they chose our board meeting software
---
"Convene as a whole is very convenient to use. It's easy to change items, roll over agendas and actions, and even write annotations on documents. […] What's great about Convene is that it is able to support all of these even offline without compromising confidentiality and security."

- Danijela Schubert, Associate Division Secretary, Seventh-day Adventist Church — South Pacific Division

Read Testimonial

"We received very good feedback from some other Queensland government departments, notably Department of Premier and Cabinet; Convene was really working well for them. They were using it across multiple departments for government meetings, and they had not experienced any problems."

- Jane Albatal, Board Secretary, Metro North Hospital and Health Service

Read Testimonial

"Convene resulted in a productivity saving of approximately twelve hours per month just for the board secretaries' time. Moreover, the reduction in stress to the board secretary—while intangible—was significant and possibly the greatest benefit realised in adopting the system."

- David Rowan, Chief Information Officer, Racing Queensland

Read Testimonial
Accreditations, Affiliations, and Partners