The Smart, Simple and Secure Way to Good Governance and Productive Board Meetings
Adopt paperless meetings for a more informed decision-making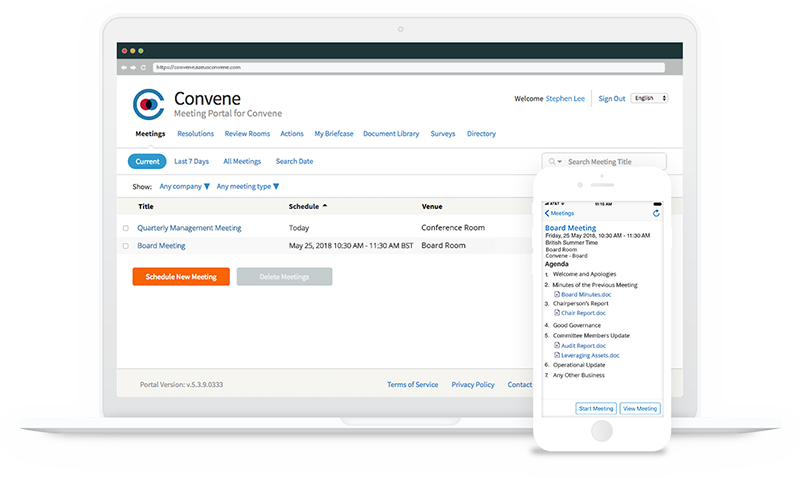 What is Convene?
Convene is a paperless meeting solution that can put all of the documents you need for a meeting in one place — on your iPad, Android, Windows, or Mac device.
Not only can you view the papers, either in advance, or in the course of a meeting, you can also highlight parts that are of interest to you, make notes on documents, or search for keywords held within any of the meeting documents.
Try Convene and other solutions, and it will be very clear why you should choose us.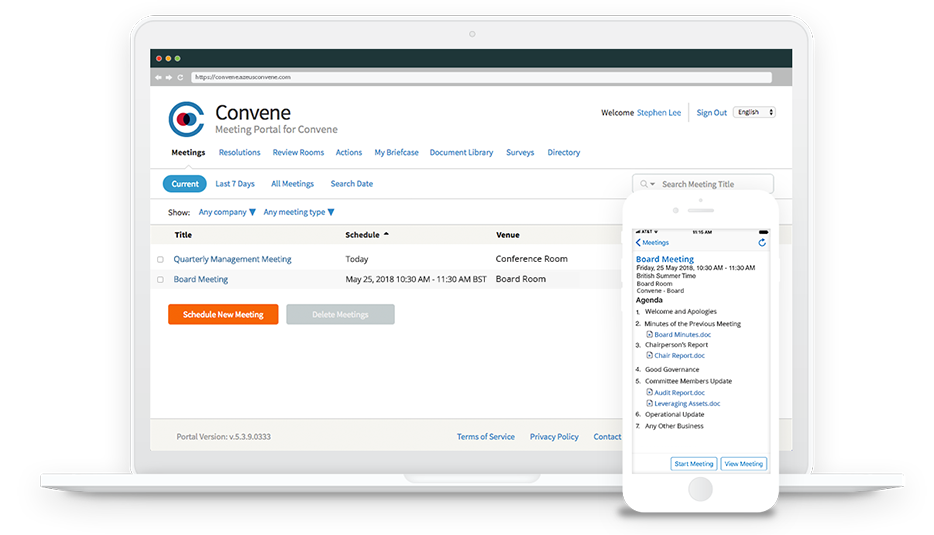 Access documents and board books instantly on iPad, Android, Windows or Mac.
Convene allows directors to bring their preferred device to meetings and access documents, both past and present.
Receive notifications via email with single-tap access to latest meeting information and updates
Download materials for encrypted offline reading
Add shared or private annotations and notes to materials online and offline before, during and after meetings
Keep everyone on track during meetings using real-time synchronised views and annotations
Join meetings from remote locations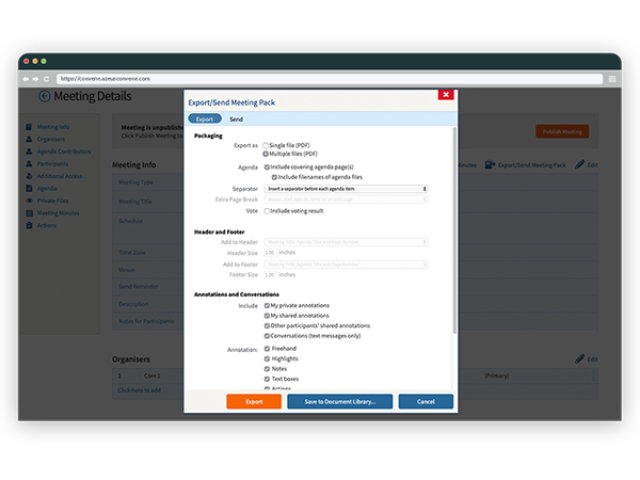 Save time and effort in board book preparation and meeting management
The powerful web portal makes it easy for secretaries and administrators to support directors and prepare board meetings.
Automate the process of board book creation and distribution
Upload all documents from the desktop via drag-and-drop
Easily define role-based or individual access to documents and folders, hiding materials as needed
Keep current meeting information in a central repository with support for versioning
Access enterprise Sharepoint or Box.net documents for meetings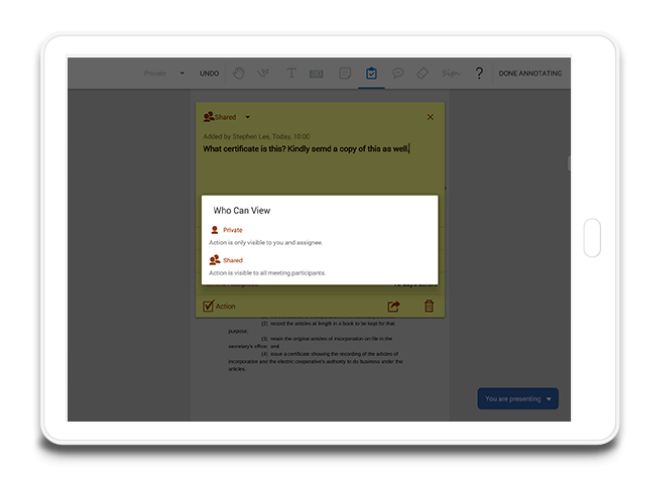 Protect important data with enterprise-grade security
Used and trusted by corporations, banks, financial institutions and governments from around the world, Convene implements security control at all levels to keep documents and board papers safe and secure.
AES-256 network and document encryption
2 factor authentication
ISO 27001-Compliant Hosting
On-the-fly decryption
Remote wipe for lost devices
Audit logging
Fine-grained access control
So why choose Convene over other solutions?
Our customers tell us that Convene has better-designed features and are far more usable than other applications. We believe Convene is the only solution that can provide a seamless paperless meeting experience across all devices — whether you or your boards and executives prefer an Android, an iPad, a Windows PC or a Mac.
We don't tell you how to run your meetings.
Convene is a paperless meeting solution built by putting your needs first. We are not a governance organisation; we do not tell you how to run your meetings, but we do enable them though highly usable, secure and reliable software at a market-leading price.
Convene adapts to your working style, not the other way around. That means your can keep using your device without having to re-learn entirely new processes.
See for Yourself
Listed, private, and government organizations in 80 countries – including banks, Fortune 500, and FTSE 100 companies – use Convene to streamline their meetings, facilitate collaboration, and protect confidential information.
Schedule a demo, try Convene at no cost nor obligation, or request pricing.
Accreditations, Affiliations, and Partners