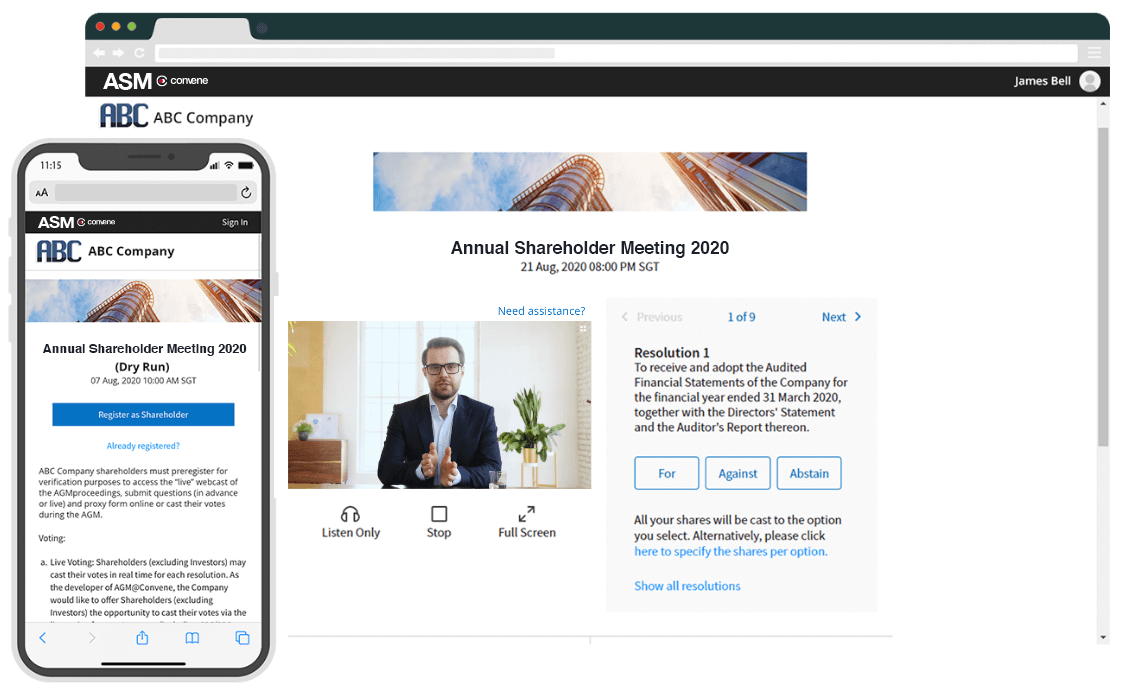 Redefining the future of ASMs
Start your Virtual ASM with Azeus Convene
Heighten Audience Participation
Increase member's engagement and participation by empowering users to ask questions and vote live during the webcast
Start your Virtual ASM with Azeus Convene
Virtual ASMs are a new experience for most, but AGM@Convene has got all your bases covered.
SCHEDULE A DEMO
Measurable Results, Real Experiences
Get to know how AGM@Convene was able to impact different types of organisations from various industries
---
"The team from Convene was very professional. They were prompt in replying to any queries that we raised, and effectively troubleshot any technical issues that occurred during the webcast. We were very glad to have engaged Convene for the company's first virtual AGM. Everything went on smoothly with the support rendered from Convene."

- Lim Hui Min Jass (林慧敏), Cosco Shipping International Investor Relations Executive

"Thanks to the Convene Team for fully guaranteeing the smooth convening of CIH's annual shareholders' meeting. The team can actively coordinate and communicate when they encounter problems. They can also fully mobilize resources to find solutions. Well done."

- Shirley Liu, China International Holdings (中翔国际) Company Secretary Assistant

"Our sincerest thanks for the Convene team's support throughout our virtual AGM planning, set-up, execution and follow-up.

Even though the AGM proceeding was relatively short, it was our first eAGM experience. We value all the team's efforts in conscientiously helping us get mentally, physically, and technically prepared, leading to the actual day of the AGM.

I would definitely recommend AGM@Convene to any Listed Company that seeks a value-for-money and almost seamless solution, served by a friendly team such as Convene's."

- Arthur Tan (陈冠深), Dynamic Colours CFO

"Having no experience in any electronic video and tele-conference facilitation with our shareholders on an international scale, we're glad Convene brought to us a seamless experience conducting our company's annual general meeting via webcast. The team has been approachable and insightful. Special thanks to our account managers who were very helpful, attentive, and prompt in every way possible in providing support to the company."

- Tio Shio Pin, Nam Cheong Limited Manager, Legal, Risk & Compliance

"We appreciate Azeus Convene's team of professionals for their dedicated service and seamless attention leading to our company's successful virtual annual general meeting."

- Priscilla Chan, China Jishan Holdings Limited Company Secretary

"First of all, we appreciate the excellent and professional solution service which Matex had received from Azeus Convene during our last AGM on 29 Jun 2020. The preparation work was evident and dealt with the specific issues that we faced. The support teams were warm and accommodating. AGM@Convene will be our first choice in the future!"

- Grace Lok, Matex International Limited Assistant General Manager
Start your Virtual ASM with Azeus Convene
Virtual ASMs are a new experience for most, but AGM@Convene has got all your bases covered.
SCHEDULE A DEMO