Don't just meet — Convene
Empower your remote meetings with a smart, simple, and secure board management software trusted by leading organisations in Africa and across the globe.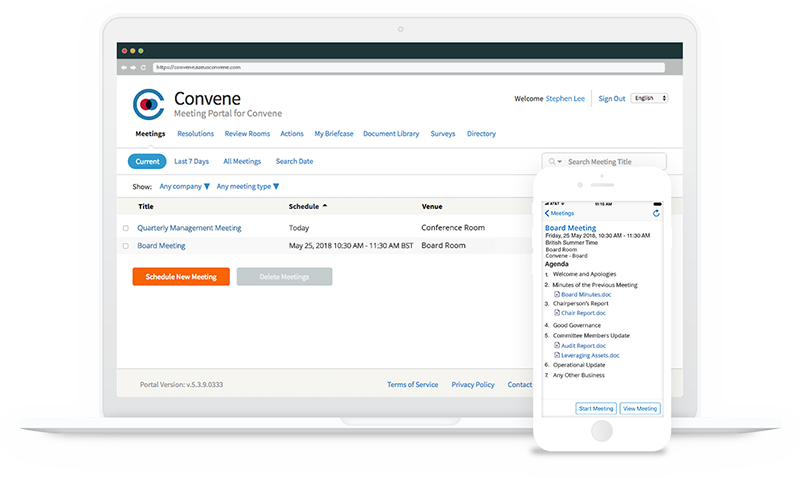 Trusted By Top African Organisations
What is Convene?
Convene is a multi-awarded and leading board management software that is trusted by listed companies, financial institutions, governments, universities, and nonprofits in the African region and over 100 countries worldwide.
Designed to meet the needs of senior level executives and administrators, Convene advocates for smarter meetings — less effort with better results. Built with feature-rich tools, organisations can achieve higher levels of productivity and collaboration in and out of the boardroom.
Learn More
For Directors
Integrated Video Conferencing

Attend meetings remotely via video, without having to worry about any security risks or data leaks.

Live Presentation Features

Keep everyone on the same page with page synchronisation and a built-in laser pointer.

Real-Time Annotation Sharing

Collaborate productively by sharing annotations and comments in real-time with other directors during meetings.

Electronic Signature

Sign important documents, and conveniently save your signature for future use.

Voting

Easily vote on crucial decision matters with real-time tallying of results to increase efficiency.

Action-Tracking

Encourage accountability by tracking the status of action items arising from past meetings.

Multi-Language Support

Utilise Convene in your preferred language — English, Spanish, Arabic (with RTL Support), French, German, Greek, Italian, Japanese, Portuguese, and Simplified and Traditional Chinese.
For Administrators
Integrated Video Conferencing

Facilitate video calls using Convene, without the need to use third-party applications.

Powerful Agenda Builder

Build the agenda and meeting pack with easy drag-and-drop and distribute the board pack to all attendees with just one click.

Voting

Effortlessly circulate vote items on crucial decision matters and easily record results.

Minute-Taker

Take meeting minutes with ease using the Convene Windows App, and instantly download minutes from the App.

Action-Tracking

Keep track of deadlines and status of action items arising from past meetings.

Document Storage

Secure important documents with fine-grained access control, or seamlessly integrate with your preferred document repository.

Document Versioning

Upload new file versions and automatically disseminate meeting pack updates to participants.

Reports

Instantly generate reports using insights collected by Convene.
For IT Managers
Secure Hosting Structures

Store data securely in SOC 1/2/3, and ISO-27001 compliant hosting facilities.

High-Level Document Security

Maximise file security with AES-256 network and document encryption, along with on-the-fly decryption.

Multi-Factor Authentication

Restrict user access with preferred authentication methods, such as SMS, Device Browser Registration, Google and MS Authentication.

Fine-Grained Access Control

Customise multi-level permissions based on user roles and/or meeting roles.

Remote Wipe

Automatically purge files in lost or stolen devices.

Audit Trail

Ensure complete security by keeping track of all activities done by users in the system.

Password Policy

Configure password settings to align with organisation policies.
Measurable Results, Real Experiences
Get to know why Convene is the preferred solution for Africa's leading organisations
---
"Convene is the perfect end-to-end business solution to enhance the effectiveness and efficiency of meetings. It collapses the multiple painstaking steps of a traditional meeting process cycle into a convenient one-stop platform for all stakeholders. "

Wee Meng Chua, Chief Financial Officer
Emaar Hospitality Group

"When Convene was reviewed by our InfoSec team and I remember them being happy and impressed by the security standards and certifications. From what they were saying, I believe it was a step above from what we had before. The fact that it can use ADFS authentication is useful for us because we use AD authentication. Convene also has the necessary security compliance standards and that was a prerequisite for us because of the people who use it (board members, directors, etc.) and the sensitive nature of the information discussed."

Chris Spanias, Solutions Architect
Tesco Plc

"The main driver for switching to Convene was the amount of time and money we were spending on printing. The average board pack was 104 pages, with 14 participants and 11 meetings a year. That's 16,000 pages."

Anne Greaves, Digital Communications Officer
NHS Sheffield
Experience Convene
Learn how Convene can give you a great meeting experience — no matter where you are or what platform you use. Schedule a free demo, request for a price quotation, or get a 30-day free trial at your convenience with no cost or obligation to purchase for your organisation
Accreditations, Affiliations, and Partners