Award-Winning Governance Software for Your Organisation
Listed companies, governments, and non-profits alike have reaped unparalleled benefits for choosing Convene.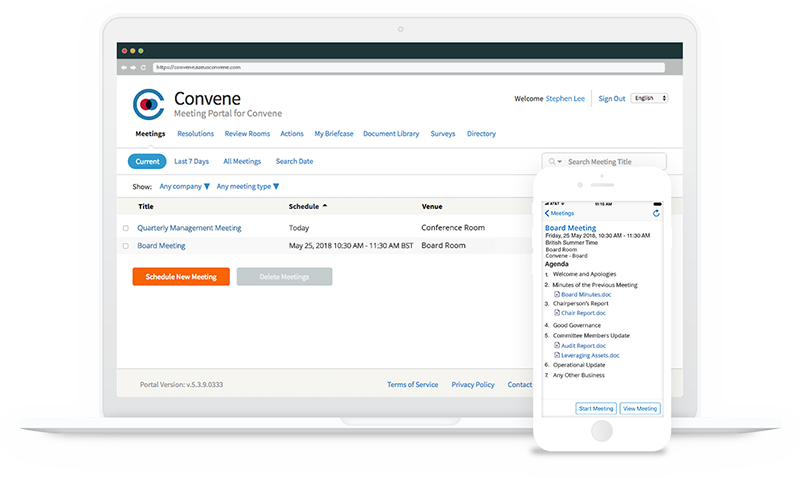 Corporate Governance in the Digital Workplace
In the ever-changing business landscape, it is imperative that companies take proactive steps in addressing increasingly difficult challenges and make the most out of opportunities. To do so, it must consider using a corporate governance software such as a board portal to stay ahead in the digital age.
A board portal enables business leaders to go beyond the boardroom, manage operations more efficiently, comply with rules and standards, and improve decision-making. By taking into account all the critical information from relevant parties, it streamlines processes and enhances productivity and accountability.
Talk to Us
Comprehensive features right at your fingertips
Know more about our powerful tools designed to elevate corporate governance across your entire organisation.
---
Pre-Meeting

Preparation

Minimise backlogs and inefficiencies in preparing for meetings

Drag and drop files
Create an agenda
Schedule meetings
Set access levels
Invite Participants

Explore more features

Meeting Presentation

Engage directors and ensure efficient decision making in the boardroom

Start remote meetings
Make annotations
Vote on items
Enable page sync
Direct attention

Explore more features

Post-Meeting

Document Distribution

Securely distribute confidential information to members of the board

Summarise meetings
Send minutes
Track actions
Export items
Download meeting pack

Explore more features

Why Azeus?
As a CMMI level 5 company with over 25 years of experience in the IT industry, we have a team of more than 300 engineers who have an unparalleled background in software development and maintenance.
With our deep pool of expertise, Azeus is your reliable partner that speaks your language. We are much more than a pure product manufacturer as we ensure successful implementation that exceeds your expectation.
Learn about us
More than Security
Here at Convene, we prioritise your security as well as promote good governance practices and efficiency as you make crucial decisions in your enterprise.
Top-Notch Governance Across Your Entire Enterprise
As a multi-awarded product, Azeus Convene takes pride in being the most efficient and economical governance solution in the market.
Why choose Convene
World Class Global Support
Convene's team of highly trained Product Support Specialists is passionate about and dedicated to providing enterprise- level service and support to clients wherever they are and whenever they need it.
Get in touch with us
Not convinced? Read up on why others have chosen Convene.
Get first-hand accounts on why our customers chose us over competitors.
---
Experience Azeus Convene
Learn how Azeus Convene can give you a great meeting experience – no matter where you are or what platform you use. Schedule a free demo, request for a price quotation, or get a 30-day free trial at your convenience with no cost or obligation to purchase for your organization.
You may also contact us at +800 100 6862 or at sales@azeusconvene.com