The Trusted and Proven Meeting Solution Used by Leading Organisations
Listed companies, governments, and non-profits alike have reaped unparalleled benefits for choosing Convene.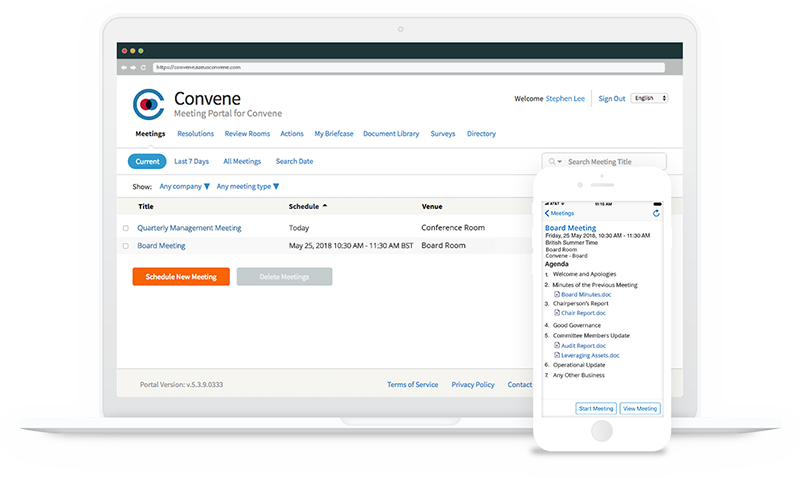 Why Choose Convene

Learn what sets Convene apart and makes it superior from all the other competitors.

Positive Impact on Bottom Line

Streamlined Meeting Management

Flexible and Highly Adaptable Solution
Why choose Convene
Comprehensive features right at your fingertips
Know more about our powerful tools designed to elevate your meetings.
---
Pre-Meeting

Preparation

Minimise backlogs and inefficiencies in preparing for meetings

Drag and drop files
Create an agenda
Schedule meetings
Set access levels
Invite Participants

Explore more features

Meeting Presentation

Engage directors and ensure efficient decision making in the boardroom

Start remote meetings
Make annotations
Vote on items
Enable page sync
Direct attention

Explore more features

Post-Meeting

Document Distribution

Securely distribute confidential information to members of the board

Summarise meetings
Send minutes
Track actions
Export items
Download meeting pack

Explore more features
I'm using a different solution. Will it be easy to switch to Convene?
Absolutely. To gain a better understanding of how Convene works, reach out to us for a free 30-day trial. Our dedicated team of experts can also provide you with a thorough walkthrough on how our product works. Once you're decided, we'll ensure that you have a smooth migration of your data to the new environment. Should you have any questions along the way, our 365/24/7 global support network will be readily available to answer your emails and calls.
Talk to Us
Not convinced? Read up on why others have chosen Convene.
Get first-hand accounts on why our customers chose us over competitors.
---
"We also considered Board Effect. However, due to Convene's better price point, advantageous features, security, and user-friendliness, Convene was ultimately chosen. It provided all the functionality we needed, and even exceeded our expectations, at a very reasonable price."

- Glen Careedy, Chief Executive Officer

Read Case Study

"We invited three providers in for demonstrations; Convene, MinutePad and BoardPacks. Convene had sparked our interest when we saw it exhibited at the AUA conference, so it was already a strong contender. From the demonstration alone, we found Convene to be very user friendly and designed by someone who fully understands committees."

- Helen Matthews, Assistant University Secretary

Read Case Study

"We looked at BoardPad, BoardVantage, BoardEffect and VirtualBoard but Convene was the best value for money compared to all the other providers. For example, you can use Convene on different devices, including Android tablets, whereas a lot of the other providers don't have that option."

- Elizabeth Morrison, Board and Corporate Support Assistant

Read Case Study
Awards, Accreditations, and Affiliations
Experience Azeus Convene
Learn how Azeus Convene can give you a great meeting experience – no matter where you are or what platform you use. Schedule a free demo, request for a price quotation, or get a 30-day free trial at your convenience with no cost or obligation to purchase for your organization.
You may also contact us at 000 800 100 6862 or at sales@azeusconvene.com